Ethan Allen
Who was Ethan Allen? Why is he a famous Vermonter?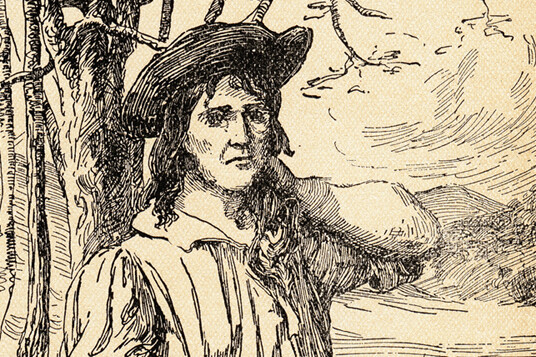 Ethan Allen was born in Litchfield, Connecticut in 1738. He bought land in the New Hampshire Grants in 1770. Allen and his cousin Remember Baker started the "Green Mountain Boys" to protect their land. Other settlers, called Yorkers, bought the same land from New York. The Green Mountain Boys and the Yorkers disagreed over who owned the land. In 1777, this land became Vermont.
In 1775, Ethan Allen, Benedict Arnold, and the Green Mountain Boys captured Fort Ticonderoga from British soldiers. Later that year, Allen tried to attack Montreal but was captured by British soldiers. He was held on a prison ship for three years during the Revolutionary War.
Ethan Allen and his family moved to Burlington in 1787. They farmed land along the Winooski River. Ethan Allen died in 1789.
Thinking About History
Historians ask questions to think deeply about history.
Ethan Allen fought against people he disagreed with. Was he a hero? Or a bully?
What would you do if someone tried to take land that you bought?
Copy and paste this citation to show where you did your research.
Vermont Historical Society. "Ethan Allen." Vermont History Explorer. Accessed August 3, 2021. https://vermonthistoryexplorer.org/ethan-allen